Are you psyched?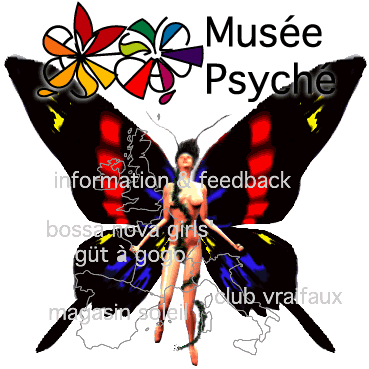 Download Musée Psyché bookmark (version 2.02) now!
Musée Psyché has had visitors since the Grand Opening on June 24, 1996. Thank you very much indeed.

japanese


Musée Psyché supports free speech online.

Welcome to Musée Psyché
Musée Psycheé was founded in 1995 for the purposes of acquiring, exhibiting and introducing to the public the works of digital offbeat art.
In 1996, Musée Psyché had its grand opening on the Internet in June, and became a registered pavilion at INTERNET 1996 WORLD EXPOSITION, where we were awarded a silver medal.
In January 1997, Musée Psyché was reorganized and rebuilt as a whole new web complex. It now consists of the following four web sites:
We hope that you:
enjoy your visit.
find our exhibitions well presented and the information provided clear and helpful.
find our facilities of high standard.
We welcome your comments so that we can continue to improve our services for our visitors. Please let us hear your comments at our museum desk.